"In this short, sensitive and irresistible biography, echoes ricochet from Salinger to Beller and back, bouncing off a word, a phrase, an accent, a memory, a chat with an acquaintance." --Cathleen Schine The New York Times Book Review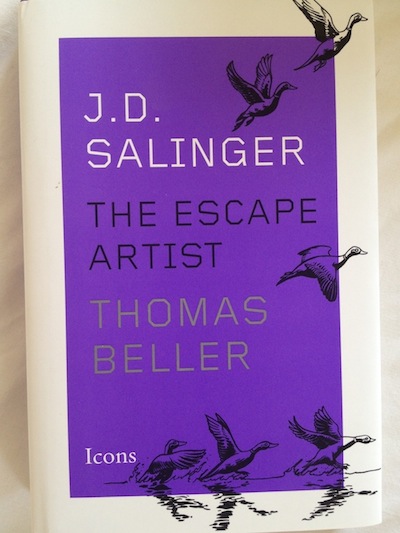 "A short but deeply researched, dark, intense biography... studded with original aperçus about the art of biography, the nature of literary influence, and the importance of place to a writer's sensibility."
-- Priscilla Gilman, The Boston Globe

"Highly attuned to the social and economic nuances of Salinger's milieu...So much insight into Salinger's world."
-- Adam Kirsch, Tabletmag.com
"Fascinating. Extraordinarily informative... A book of gracious and provocative second thoughts."
-- Brian Bethune, Maclean's
"(A) genre-bending nonfiction charmer. Beller's narrative unfolds with the seamless grace one expects from a practiced fiction writer and longtime contributor to The New Yorker magazine. That experience makes him especially sensitive to the literary merits of his subject."
-- Chris Waddington, The New Orleans Times Picayune
"Beller offers a uniquely literary inquiry into the combatively reclusive and epically blocked author of The Catcher in the Rye and beloved short story collections... A fine and stirring portrait of a haunted literary artist.'
-- "Booklist (starred review)
"Rather than writing a straightforward biography, Beller offers here an exceptionally well-researched, deeply felt, and thoughtful exploration of the elusive author's history, in which he probes Salinger's life and prickly familial ties, and their manifestation in his timeless characters and settings."
-- Publisher's Weekly

"Beller writes with intelligence and insight..."
-- The Los Angeles Times
"Some of the best parts of "The Escape Artist" are its asides... Beller has an entertaining style." -- Newsday

"(Beller's) prose was vivid and concise, and possessed the lyrical quality of fiction. It was clear that Beller treated his work, and his subject, with delicacy and care... What I expected to be some invasive act of voyeurism turned out instead to be a work of scholarship, introspection, honesty and sincerity."
-- Stewart Sinclair, The New Orleans Review.
"So engaging, so funny, so witty and intelligent and wise. I had not thought it possible to learn anything more about Salinger, but Beller has done it.
--Philip Lopate, author of To Show and To Tell: The Craft of Literary Nonfiction, Waterfront, and Portrait Inside My Head; Editor of The Art of the Personal Essay.
"The objective, exhaustive biographies of Salinger have been published. Beller supplies us with what's needed now--a book that shines with a deep personal passion for the writer."
--Edmund White, author of Rimbaud: The Double Life of a Rebel and Marcel Proust: A Life
"In this mesmerizing brief biography, Thomas Beller captures in lively fashion the many sides of Salinger's complicated personality: the recluse, the distant father, the eccentric genius writer. And there is another personality here: the biographer himself, at once detective, story teller and acerbic critic rolled into one. It's hugely readable; I couldn't put it down."
--Patricia Bosworth, author of Jane Fonda: The Private Life of a Public Woman
"This book approaches J. D. Salinger's life and art from six or seven angles, all of them acute. Beller reveals his own sensibility along with his subject's, and the result is a wonderfully personal portrait, telling in every detail, gesture, remark and reflection."
--Daniel Menaker, author of My Mistake
"It's hard to imagine a more perfect pairing of author and subject than Thomas Beller and J.D. Salinger. Beller is not just a close reader of Salinger but an intimate companion, an aficionado/scholar whose expansive curiosity, sharp insight, and wry self-awareness make The Escape Artist both a pleasure and an education."
--Meghan Daum, author of My Misspent Youth
***
"Touching and often funny... graced by elegant turns of phrase, a fresh way with metaphor and real insight. Brilliantly captures the great expectations and recurring ambivalence of youth." -- New York Times Book Review
"A touching collection of stories about love in the city... (an) exceptionally memorable... spirited collection." -- Time Magazine
***
A New York Times Notable Book.
A Los Angeles Times Best Book of 2000.
"Captures perfectly the myriad stages of fear, discovery and elation that mark one's first sexual experience... Beller paints a hauntingly accurate portrait of a love affair laced with grown-up complications."
--New York Times Book Review
"Hits a pitch of anguish so leavened by humour as to keep the reader off guard in a satisfying if disturbing way."
--San Francisco Chronicle
"Beller is a master of the profound and fatal flaw... poetry is everywhere."
--Los Angeles Times
"Smart and funny. Beller has an admirable eye for detail, and a cutting observational wit."
-- Deborah Picker, L.A. Weekly
"A frank, likeable book with an appealing central character."
--Janet Maslin, The New York Times
"Beller is writing in a genre - the guy-coming-of-age - that has been around for a while. But in his modest way he changes the rules."
--Sarah Kerr, Vogue
"Featuring a New York that, like Kundera's Prague, is a vast hive of seductions and betrayals, Beller's carefully crafted debut novel charts the coming-of-age of Alex Fader.... Beller has the true novelist's knack for weaving together the disparate threads of postmodern urban existence into convincing studies of character. The vignettes of Alex's life coalesce into a moving portrait of a young man intuitively seeking a place he can call home."
--Publishers Weekly
"Fresh, sophisticated, and most of all utterly readable."
--Eva Hoffman
How To Be a Man:
Scenes From a Protracted Boyhood
Amazon, Barnes and Noble, W.W. Norton.
"Smart, funny, interesting..."
--Jonathan Yardley in The Washington Post
"Beller can write his butt off."
--Donnell Alexander in The San Francisco Chronicle
"A supremely enjoyable collection of essays written in clear, often very funny prose."
--Adrienne Day, in Time Out New York
"Not since I first read Joseph Mitchell have I felt so vividly and beautifully transported to the streets of New York. Thomas Beller is a chronicler of his own life but also of the life of the city, and there's a quality of unbridled curiosity to his work which make his essays shimmer with comedy and insight and exuberance. I absolutely loved this book."
--Jonathan Ames, author of Wake Up, Sir!
"The best sections of his book . . . call to mind Raymond Carver in their clarity of language and subdued emotion. A fine collection of essays that will resonate with many."
--Publishers Weekly
"Elegant descriptions and sophisticated insights that evince the hipness you expect from a lifelong New Yorker and a sweetness and intimacy you might not."
--Carole Goldberg in The Hartford Courant
"An enjoyably mature read."
--Gilbert Cruz, Entertainment Weekly
" Beller's smooth prose and insightful analyses will appeal to fans of good writing everywhere."
--Audrey Snowden, Library Journal
"Doesn't show how to be a man so much as a mensch."
--Jacob Heilbrunn, New York Times Book Review
"These quite marvelous and darkly hilarious personal essays derive their power from a shameless honesty, often about the most shameful moments, which suddenly reveal a luminous upside in the author's comic retelling. Together they give us a privileged view of how curiously attenuated and winding, for many a young American male, is the long march to maturity."
--Phillip Lopate, author of Getting Personal, and Waterfront
"Each meticulous sentence is a crooked finger that lures the reader deeper into his darkly funny world."
--Lauren Gilchrist, Columbia Spectator
Editors' Choice: New York Times Book Review, Amazon.com
Table of Contents
Manhattan Ate My Car (read)
The Costume Party
Mother Goes to Hollywood (read)
Chemistry Set
The Drummer
The Birthday Suit
Portrait Of The Bagel As AYoung Man
The Problem with T-Shirts
A Biker in the City
Turtles In New York
The Breakup
The Tryout
Addicted To Love
The Last Days of Shakespeare & Company
Scenes From a Playground
A Bike Messenger in the City
Strip Club
A Car Is Not A Castle
Walking The Dog
The Floating Armoire